On October 21, we packed our bags, loaded our boards on top of the car, and kissed Milo adieu. Our spirits were high as we headed east down I-24 towards Chattanooga. We were Chattajack bound, and there was nothing that would get in our way. We talked strategy. We discussed preparations. We shared last minute advice. We thought about all the training we completed, and all the training we did not quite complete. Every mile we paddled and race we raced this past summer had these moments in mind and the 31 (actually 32) mile race that laid before us. We were closer than we had been all year. We arrived downtown at Riverfront where we were greeted by the long, winding registration line and familiar faces from paddles past. We checked our boards in, received the race course map and tape with bacon on it (to let future drafters know we were 14'), and tucked our boards in for the night.
Once arriving at the house where we were going to spend the weekend, we quickly dropped our gear and bags and ran outside to the backyard. Invisible to us on the drive up but clear as day once inside the house was a large boulder field out the back window, and we had to go play around on them.
The rest of the evening's activities resided in preparing our hydration bladders with water so that we just had to add Tailwind Nutrition endurance mix in the morning, and separating out all the Shot Blocks and Tahoe Trail bars. With our vest packs filled and race bibs laid out it was time to sleep. Falling asleep came easily, and that night dreams of paddling paddled through our heads.
Race morning came all too quick. The sun had not even woken up yet and we were putting on our clothes like we were about to go into battle. Little did we know, battle was right.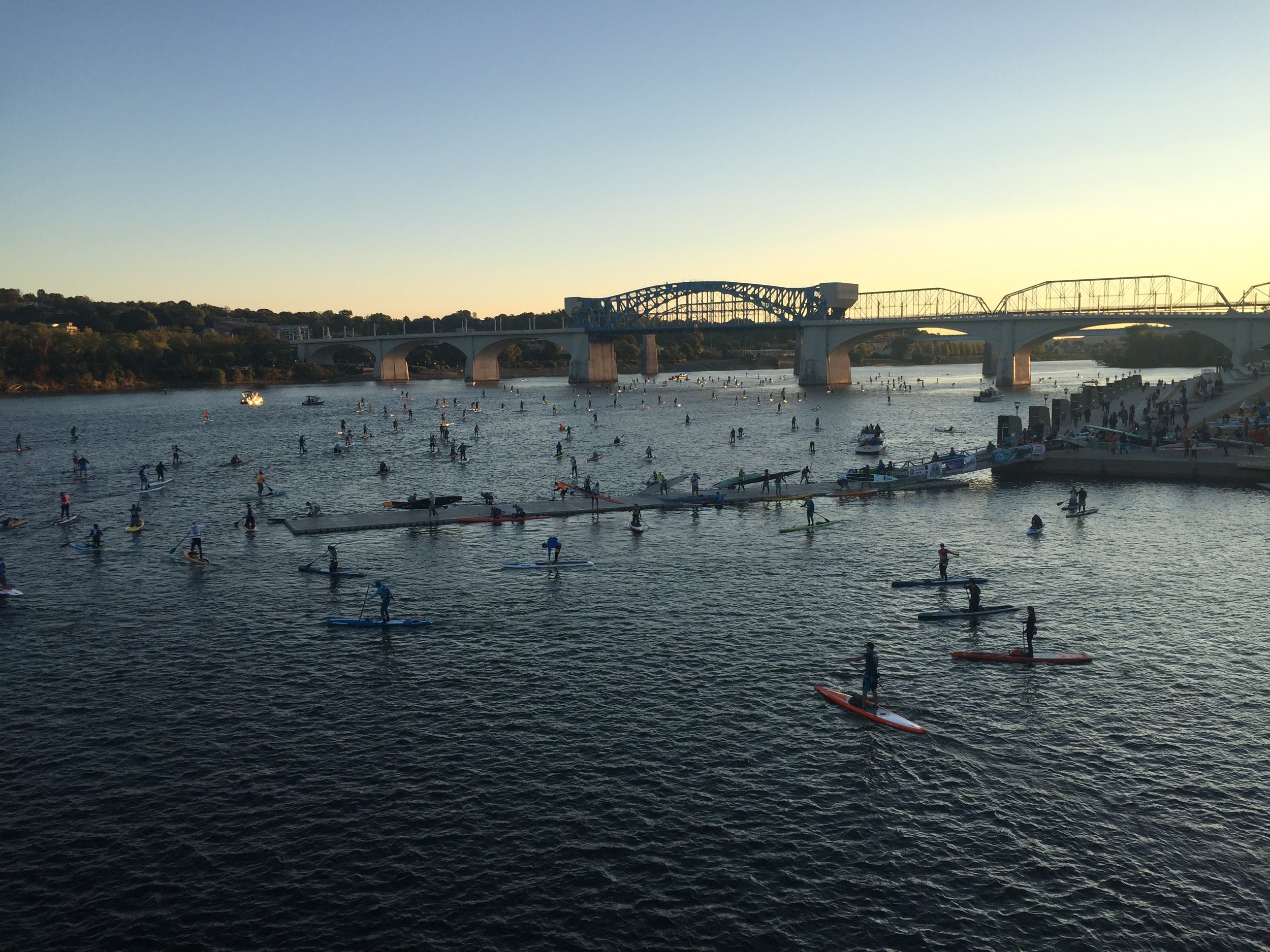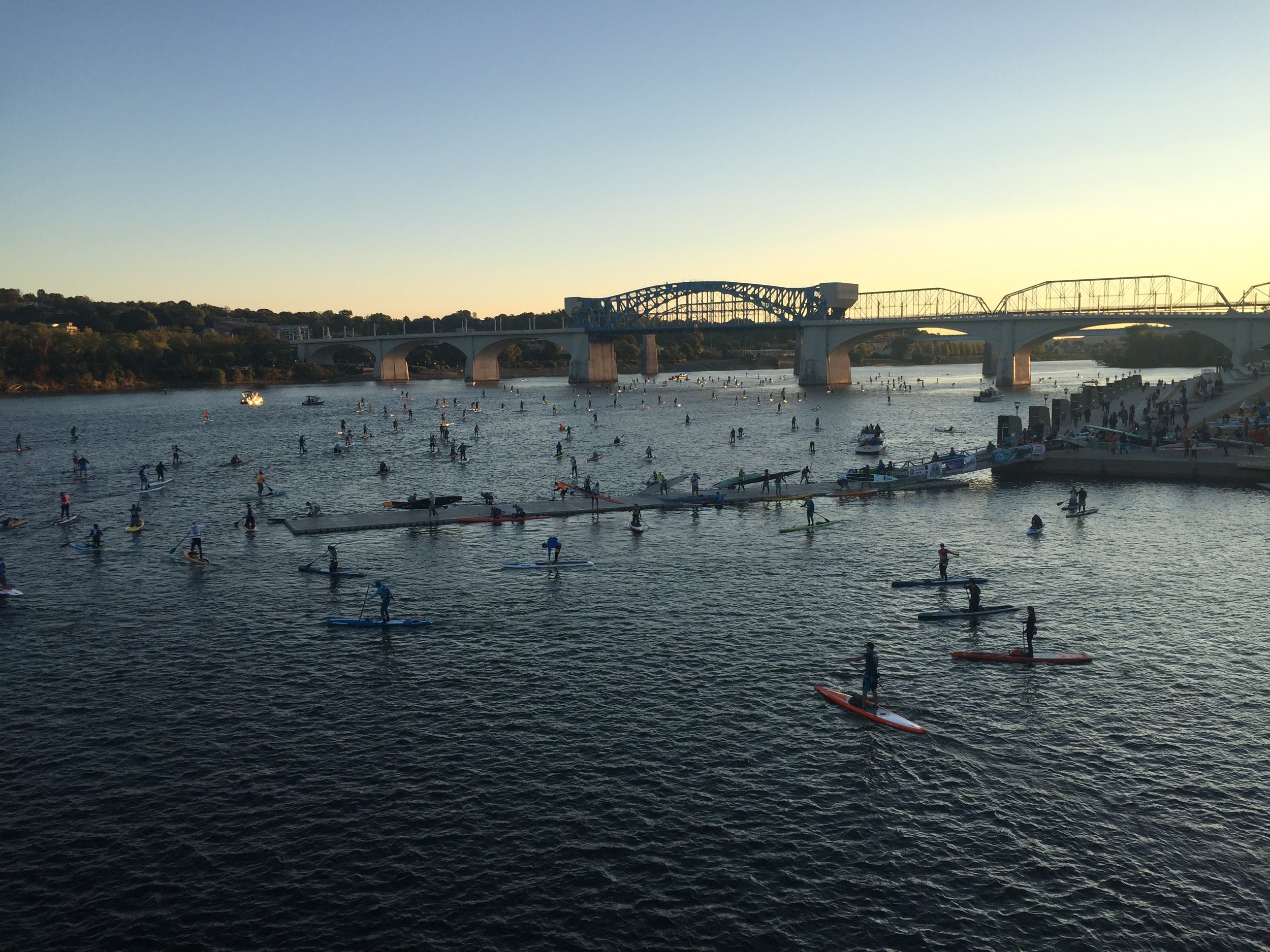 It was cold, dark, and people were anxious. Our spirits were high still, anxious but high. During the race meeting, it was mentioned how difficult the day was going to be on the water. No one in that moment truly knew the understatement of that announcement. The sun was beginning to rise, the bagpipes started to play, and next thing we know we were loading on to the water, boards in hand, shoes and extra layers left behind on the grass.
We paddled up river to the start line in between the bridges. Trying to stay still once we got there became difficult with all the chop created from the 400+ boards in the water. The final words were said by the race officials. We stood on our boards, bent over, paddle stretching out towards the nose of the board, we were ready to dig. The horn rang across the river awakening each and every paddler to a new reality, and we dug the blade of our paddles deep into the water.
The rest of the day was kind of a blur. Well, not exactly, but no one will truly understand what it was like out there that day on the water, other than our fellow paddlers. Rising temperatures felt good as the sun began to shine. Mile 1 completed. Mile 2, 3, 4, 5 easy. Mile 6, 7 and 8 went by quickly, we were averaging a solid pace. Mile 9 was when the wind started. Mile 32 would be when it would stop. Sure we had some pockets of stillness and even 2 record breaking minutes of a tailwind. The rest was the most grueling headwind we had ever experienced. No amount of training could have prepare us for the mental game that paddling your hardest but getting nowhere entails. Mile 10, 11, 12, and 13 were completed despite the energy we burned trying to get past mile 9. Mile 14 and 15 gave us a bit of a break from the wind.
At mile 16, we were able to stop and refuel, packed up our shed layers and grabbed a much desired Tahoe Trail Bar. Mile 17 came and went, marking uncharted territory as the longest miles paddled thus far during a single paddle. Our average speed was back up way beyond what we had trained for, and we were thrilled. Mile 18 felt great, we were cruising. At mile 19, we watched our average speed go from 6+ mph to 4 mph to 3 mph and *boom* before we knew it we were only averaging 2.5 mph. Mile 19 was no joke, the headwind was back in full force with no magical pockets of calm. We were no longer able to stop for anything. If you stopped you would harassingly get pushed backwards up river and farther away from Hales Bar, the infamous finish line. The most ironic part of it all was all we could do was laugh and keep paddling. So we paddled and paddled. We paddled through mile 20 and 21, where we thought to ourselves that the wind had to slow down eventually. Mile 22 came and went. At mile 23, we were sure we would get away from the wind. Every turn of the river that should have , by every law of the universe, provided us with a different wind scenario was just another, if not greater, constant headwind, 2 to 3 foot swells and tough paddling. Mile 24. Mile 25... 26. At mile 27, we thought that we would be stuck in that particular stretch of river for the rest of our young lives, progress came slow almost unnoticeable. At mile 28 we were told that we were 4 miles behind where we thought we were. At mile 29, we celebrated the inaccuracy of mile 28's given information. The 20 mph consistent headwinds with 30 mph gusts sprinkled in like pineapple sprinkled on a delicious pizza, but this wind was significantly less delicious than the hypothetical pizza we were dreaming about as we paddled. Mile 30, there was no way we had made it to 30 but on our little screens of our SpeedCoaches staring back at us was that beautiful number 30. Having never paddled the gorge before, we did not have the familiarity of landmarks along the way. We would later decide that we were grateful for this because if we had any more of a reminder how slow we were averaging miles once the wind kicked in we might have just laid down on our boards and rode them back up river to the aquarium.
We came around what would be the final bend and there she was Hales Bar and what has earned its name of the hardest 1.5 miles of the Chattajack. We were warned not to look at the marina because it never got any closer, and damn it, that was the truest statement from the entire day. It did not, it never got closer. Our friend the headwind decided to change to a crosswind leaving us to solely rely on our left side just to stay somewhat straight, but we kept paddling. Bodies wrecked we tried not to question how our paddles continued to meet the water. Sometimes, we, as humans, forget how strong we are; some even take our strength for granted. That day on the water was a reminder for some and a realization for others of how immense this strength is. As we paddled closer to the marina and closer to the finish line, we did not let our energy waver, but instead paddled harder- faster. Each stroke pulling our boards that much farther through the water defying that much more of the push from the wind. We heard cheering; we heard our names being yelled out; we heard screams of absolute joy from our teammates who had been cheering us on the entire time as well as strangers thrilled to see another paddler finish the incredibly tough race. We paddled the final stretch, the final 50 feet, as our friends and family ran the length of the dock beside us. Passing over the finish line was a feeling that we will never forget- a feeling that can only be described as victory.
The day after the Chattajack we decided to treat ourselves to a hike and the Tennessee Aquarium.